Service news

December 15, 2020
Service of sport forecasts and statistics warmly congratulates all the site visitors on New Year and Christmas holidays. The days from the December 15, 2020 till the January 7, 2021 each registrated user can prolong the full access to the service at a discout up to 50%.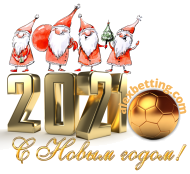 Full News List
»»»

S

ervice of sports statistics and forecasts gives a unique opportunity to use global analysis of forthcoming and already finished matches, due to it you will reveal very favorable rates in bookmaker office in very short time and beat the bookmaker. Service keeps statistics on 130 world football championships, Champions League, Europa League, World Cup, Euro Cup and makes the qualitative forecast for all forthcoming matches.

P

ayment for full access to the service is trifling in comparison with information obtained. Reasonable approach to decision making and maximum efficient resort to the service will allow any user to achieve excellent results and to raise the income on sports rates.

O

ne will be able to use the service at intuitive level after several seconds of acquaintance. Very simple system of navigation will not allow new user to get confused. Complete description of service will help to understand the details needed.

R

egular updating of statistics and odds of forthcoming matches will simplify work of the most exacting capper. Both for the beginner, and for the professional this service could become essential tool for making a decision about a stake on this or that event.

T

hus, we ask you to get more information about our service. Don't hesitate to read descriptions of service and terms of affiliate program, frequently asked questions and, of course, to register at the site. Feel free to ask any questions if you have not found the right answer. You are welcome!